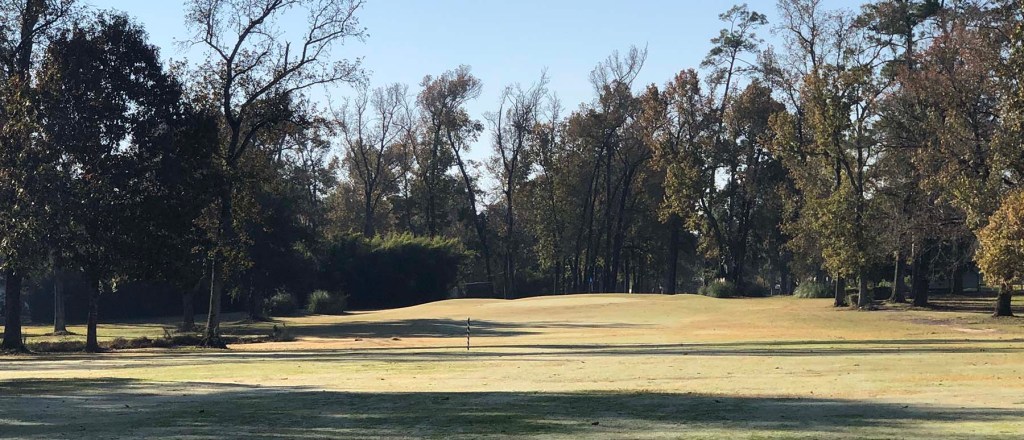 Hole-by-Hole Description
Hole #1
Par 4
The starting hole is a fairly short par 4 and doglegs to the left. Longer hitters can use a three wood or hybrid to put their tee shot in the fairway. Most players will have a mid to short iron second shot. If you miss the green, short and in front leaves the easiest chip.
Hole #2
Par 4
Number 2 is a slight dogleg right with a wide landing area. A slight fade will leave longer hitters with a short iron second and a mild to long iron or even a fairway wood for shorter hitters. Again, if you miss the green, short will leave the easiest chip.
Hole #3
Par 3
A short par 3 with a relatively short tee shot over the edge of a two acre lake and a forced carry over a small pond fronting the green. A tee shot on the green will leave you with a good birdie opportunity.
Hole #4
Par 5
A medium length par 5 that bends to the right. A fairly generous landing area will leave the longer hitter with a good chance to reach the green in two shots. Out of bounds to the left of the fairway and over the green come into play. This is a three shot hole for shorter hitters, but a short third should leave the player a good birdie putt.
Hole #5
Par 3
The tee shot on number 5 is the key to playing this hole. Try to keep your tee shot below the hole no matter with the pin is. If you miss this green, short and front leaves the only reasonable chip shot.
Hole #6
Par 4
This short par four has out of bounds down the entire left side and Abbotts creek runs down the right side, crosses in front of the green, then skirts the left side of the green. The tee shot does not need to be long, but it definitely needs to be in the fairway. If you miss this long narrow green there is no easy chip to get up and down.
Hole #7
Par 5
This par 5 is slightly shorter than number four but plays longer since the second half of the hole is uphill. A three shot hole except for longer hitters, the tee shot must be in the fairway as trees on the left and right will block a sprayed tee shot. As on number 6, Abbotts creek can come into lay down the right side. One of the larger greens, an accurate third shot is required to have a good birdie chance.
Hole #8
Par 4
Number 8 is the second longest par four. A fairly severe dogleg left, this hole demands a longer tee shot with a slight draw in order to have a short to mid iron second. For the shorter hitters, this is a three shot hole with an uphill second. Sporting the smallest green on the course, an accurate approach is a must. Again, a missed green offers no easy chip except short and front.
Hole #9
Par 4/5
The longest par 4 on the course, this hole is a three shot hole for most players. A small pond short and left of the green is a sneaky hazard that you do not always notice. Longer hitters can reach this green with two good shots. This green is fairly large but mounding can create difficult chipping situations. If you leave this hole with a par 4, you can congratulate yourself on a hole well played.